Sustainability
At Hastshilp, we're committed to playing our part to protect the planet and ensure that our business has a positive effect on the world around us. Sustainability and ethical practices have always been the foundation of our company, and something we believe can always be improved upon.
Rattan is a palm plant, native to North-East India, that grows in rural mountainous areas in abundance. Rattan grows wild in parts of Asia, Australasia and Africa, however the greatest diversity of this plant grows in Southeast Asia. We source our rattan and cane from Northeast India, where it grows in abundance due to the semi-tropical climate there.
There are so many wonderful reasons for using Rattan and Cane. Some environmental, some cultural and some purely aesthetic:
Rattan grows extremely quickly, making it better for the environment than wood.
Despite being so strong and durable, the rattan plant is also extremely flexible and can be bent, woven and curved into almost any shape and design.
It comes in many varieties, lengths and thickness. This allows us to be flexible with our designs, depending on if we need to use thicker pieces for large sturdy items, or thinner pieces for more intricate designs.
There is almost no wastage of materials, as each little piece of rattan cut-offs will have a use at some point.
Rattan grows in abundance in India, where we also craft all our items. This means we are able to locally source materials, supporting other local trades and reducing emissions.
To help preserve the dying art of Cane Craftsmanship.
Rattan is a vine that grows naturally amongst trees, and can be ready to harvest in as little as two years (although the thicker and longer vines take around 5-7 years to grows), as opposed to a minimum of 20-30 years when using wood.
The short amount of time it takes to grow in no way impacts its strength and durability. This is demonstrated by many vintage rattan furniture pieces dating back to the mid 1900's still being in pristine condition.
There is hardly any wastage when working with rattan. As the vines grow up to 200 metres long, the pieces are all cut to size and the remnants can be kept and used when different sized pieces are needed.
Rattan furniture is prepared and made in various ways throughout the world. We choose to use the traditional Indian method of Cane Craftsmanship that has been passed down through generations. This means that we don't use any big machines or fancy equipment, just some extremely talented artisans, some water for soaking the rattan, fire for heating the rattan up and a selection of hand tools.
We try to reduce our environmental impact as much as possible, which is partly why we choose to scrape our rattan as opposed to bleaching it. Not only does it keep the beautiful natural markings and colourings that come with natural materials, but it also removes the need for using harmful chemicals. (TOP TIP: If you ever see a perfectly smooth thick piece of rattan with no markings… it's been bleached!).
In order to preserve our rattan pieces for as long as possible, we use a thin coat of lacquer once the item has been made. While there is currently no fully natural option, we use the highest quality with the lowest chemical emissions and environmental impacts. This is something we are always looking to improve upon.
We believe ethical practices also play a role in ensuring something is sustainable. All our items are made by independent artisans in a small town in North India, where Aadil our founder is originally from. This has ensured us to know exactly who is making our items, the in-depth process of how our items are made, and that all our artisans are well looked after and fairly paid.
We send almost all our items in recycled cardboard boxes that are fully recyclable and ready to be repurposed or turned into cardboard again.
Our tape is made of paper and can be recycled along with the cardboard.
Our labels and packaging materials are all made of recycled paper and cardboard that is fully recyclable.
Whilst we try to keep our packaging as natural as possible, we also don't want any of our items to be damaged on their way to us or to you. Our mirrors are packaged using bubble wrap, which we reuse when we send our mirrors to you! This is something we are trying to find a replacement for, which we hope to substitute soon.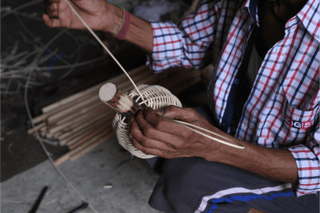 If you would like to know more about rattan or our company, please send an email to hello@hastshilp.co.uk - we love to chat about all things sustainable!